Virwadia Steels is Pipe Fitting manufacturer in Chennai. We are known as Forged Fittings, Buttweld Fittings, Flanges, Pipes and Tubes, Fasteners manufacturer supplier in Chennai. We manufacture high-quality Pipe Fitting with International Quality Standards(IQS) guidelines. We are supplier of Pipe Fitting in Chennai. Virwadia Steels International supplies pipe fittings in Stainless Steel, Carbon Steel, Alloy Steel, Copper, Titanium and other grades with Standards such as ASTM / ASME / ANSI / UNS / DIN and other standards. 
If you have any questions please contact our friendly team on +91-9543334811
SS Fittings Specifications
| FITTINGS | SPECIFICATIONS |
| --- | --- |
| | Socket Weld Fittings : Elbow 90 Deg , Cross , Tee , Elbow 45 Deg , Coupling , Half Coupling & End Cap, Reducing Coupling, Hexagon Nipple, Hexagon Bush, Hexagon Head Plug, Sockolet, Weldolet, Thredolet, Elbolet, Nippolet, etc. - NPT, BSP, BSPT, Threaded Fitting |
| | 2000LBS, 3000LBS, 6000LBS, 9000LBS, etc |
| | |
| | 90, 45, Tee, Cross, Coupling, Reducing Coupling, Bushing, Cap, O'Let. |
| | ASTM /ASME A/SA 213 / 249 / 269 / 312 / 358 CL. I to V - 304 , 304L , 304H, 309S ,309H , 310S, 310H , 316 , 316TI , 316H , 316 LN , 317 , 317L , 321 , 321H , 347 , 347 H , 904L . |
| | ASTM A182 / ASME SA182 UNS NO S 31803 , S 32205 , S 32550 , S 32750 , S 32760. |
| | Nickel Alloys 200, Nickel Alloys 201 |
| | Hastelloy C-22, Hastelloy C-276, Hastelloy C-2000, Hastelloy C-4, Hastelloy X, Hastelloy B, Hastelloy N, Hastelloy G |
| | Inconel 600, Inconel 601, Inconel 625, Inconel 625LCF, Inconel 686, Inconel 718, Inconel 800, Inconel 825, Inconel X-750 , Inconel 690, Inconel 602, Inconel 617, Inconel 925, Inconel A-289, Inconel AL-6XN, AL-904L |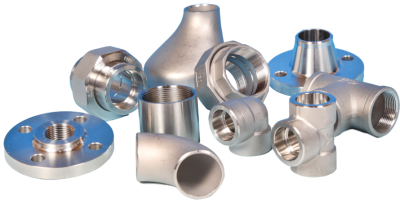 The flange is second most used joining method after welding fittings. Flanges are used when joints need dismantling. It Provides flexibility for maintenance. Flange Connects the pipe with various equipment and valves. Breakup flanges are added in the pipeline system if regular maintenance is required during plant operation. We are Flanges Manufacturers in Chennai. A flanged joint is composed of three separate and independent although interrelated components; the flanges, the gaskets, and the bolting; which are assembled by yet another influence, the fitter. Special controls are required in the selection and application of all these elements to attain a joint, which has acceptable leak tightness. 
We have Flanges in different materials and standards such as Stainless Steel Flanges manufacturer in Chennai, Carbon Steel Flange manufacturer in Chennai, ANSI B16.9 Flange manufacturer in Chennai, ASME B16.9 Flange supplier in Chennai. Flanges at Virwadia Steels International comes in different class such as class 150 flanges manufacturer in Chennai, class 300 flanges manufacturer in Chennai, class 400 flanges manufacturer in Chennai, class 600 flanges manufacturer in Chennai, class 900 flanges manufacturer in Chennai, class 1500 flanges manufacturer in Chennai, class 2500 flanges manufacturer in Chennai.
Pipe and Tube are two remarkably similar cylindrical "materials" that are used for a wide variety of applications. People often confuse the two, and the terms are used interchangeably at times, but they do exhibit different characteristics. A tube has higher engineering specifications and manufacturing requirements than a pipe. We are Pipes and Tubes Manufacturers in Chennai. In manufacturing industries, pipe and tube constitute two very different materials. The pipe can be made from various materials, we are suppliers of Stainless Steel Pipes in Chennai, Stainless Steel Tubes in Chennai, Carbon Steel pipe and tube. Tube can be made from metal alloys such as stainless steel, carbon steel.
About Fasteners manufacturer in Chennai –
Fasteners are universal elements, hardware devices which are utilized for non-permanent linking of at least two items together. Fasteners are a category of mechanical components which are used for fastening connections and therefore are really versatile. We are Fasteners Manufacturers in Chennai. Fasteners can be used in various industries such as Fasteners for Automobile, Fasteners for Petrochemical, Fasteners for pharmaceutical, Fasteners for Oil and Fasteners for gas, Fasteners for Rubber, Fasteners for Food processing, Fasteners for heavy machinery and so on. Fasteners are used to connect Flanges to Pipes and Tubes, the process is called Bolting where nut bolts are used.
Pipe Fitting Manufacturers in Chennai: Industrial Pipe Fitting uses –
Pipe Fitting for Oil & Gas Industries
Pipe Fitting for Chemical / Pipe Fitting for Petrochemical Industries
Pipe Fitting for Food, Beverage, and Dairy Industries
Pipe Fitting for Power Industry
Pipe Fitting for Sanitation Industry
Pipe Fitting for Road & highway construction Industry
Pipe Fitting for Ventilation Industry
Pipe Fitting for Marine & dredging Industry
Pipe Fitting for Irrigation Industry